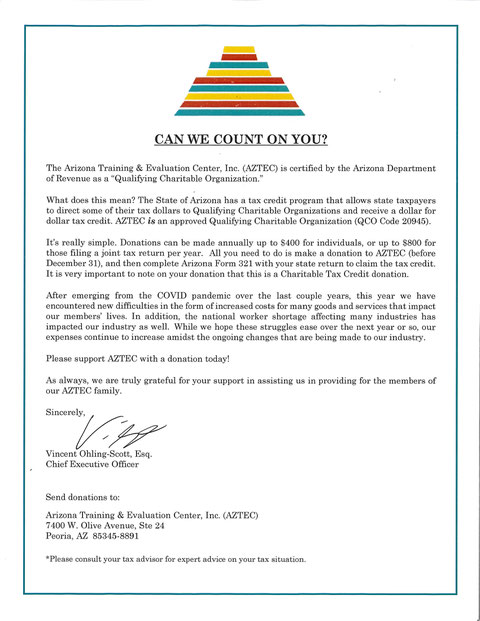 Tax Credit
AZTEC is certified by the Arizona Department of Revenue as a "Qualifying Charitable Organization." 
The State of Arizona has a tax credit program that allows state taxpayers to direct some of their tax dollars to Qualifying Charitable Organizations and receive a dollar for dollar tax credit. AZTEC is an approved Qualifying Charitable Organization (QCO Code 20945).
Donations can be made annually up to $400 for individuals, or up to $800 for those filing a joint tax return per year.  All you need to do is make a donation to AZTEC (before December 31), and then complete Arizona Form 321 with your state return to claim the tax credit.  It is very important to note on your donation that this is a Charitable Tax Credit donation. 
Donations (Non-Specified)
There are many ways to support AZTEC. Please click on our Donations/Contributions page to see how you can help us help others. You can volunteer your time, attend one of our events, make a donation of goods or services, or you can make a financial contribution below.
Fry's Community Rewards Program
When you use your Fry's VIP card, a portion of your sale will go towards AZTEC in the form of a monetary donation.  Every time you shop, you are helping AZTEC.  You will need to "link" up your current Fry's card to our organization. To do that (or to get a Fry's card), please go to:
https://www.frysfood.com/topic/new-community-rewards-program to join.
You will need AZTEC's NPR # in order to link your VIP card to AZTEC's NPR #, which is 39218. 
If you have any questions, please email aaviles@aztec1.net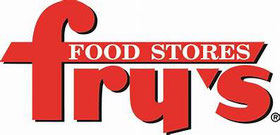 Contributions
The Arizona Training & Evaluation Center, Inc. (AZTEC) is a non-profit, charitable organization, and donations to AZTEC are tax deductible.  As with most 501 (c)(3) non-profit organizations, AZTEC relies heavily on individual, family, and corporate contributions to help sustain our extensive community-based program of supports and services.  Donations received are utilized to help improve the quality of life for those people with disabilities served by AZTEC.  A donation letter will be sent for your records.
As necessary, AZTEC will provide pick-up services for all donations made.  Donations are accepted in virtually every category.  Examples are listed below:
· Cash/Checks                              · Computer Equipment/Hardware
· Fund Raising Efforts/Raffles       · Play/Yard Furniture/Equipment
· Gift Certificates                           · Toys
· Small and Large Appliances       · Tools
· Household Furnishings               · Perishable/Non-perishable Food
· Vehicles                                      · Property/Land
Memorial Gifts
A memorial gift to AZTEC is a personal and unique way to express your sympathy.  Your gift ensures that our program participants receive the support and care they need.  Personalized donation letters are sent to acknowledge receipt of all memorial donations. 
If you wish to make a donation or memorial gift to help improve the services and the quality of life for persons served by AZTEC or have a question regarding donations, contact Donna Ohling at (623) 412-2888 ext. 126 or email dohling@aztec1.net.