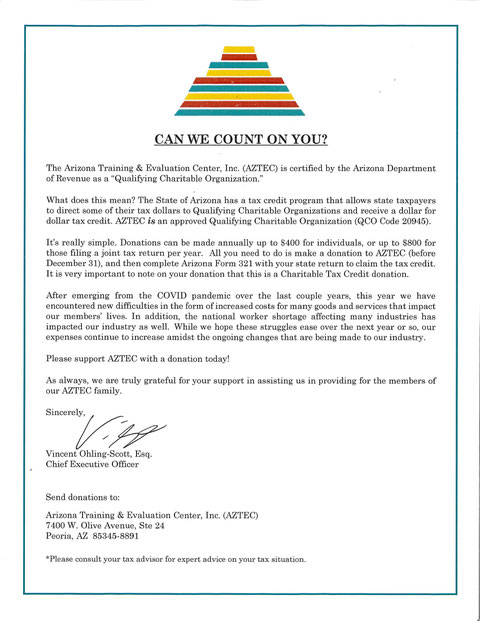 Since 1979, AZTEC has been committed to providing high quality programs and services to over 250 children and adults with developmental disabilities. Our goal is to provide a caring and nurturing environment and to work closely with families to increase the independence, physical well-being and community participation for their loved ones.
AZTEC team members are dedicated to the philosophy that every human being, regardless of their level of ability, has the right to develop to his/her maximum potential.  Every person should be afforded the same dignity and respect as all other persons.
AZTEC services and programs will provide opportunities that incorporate a multi-dimensional and ecological approach to personal growth.  This approach also reflects the interaction of the person within his/her environment with regards to independence, rights and responsibilities, relationships, societal contributions, participation in school, community, employment opportunities and overall well-being. 
We understand that everyone needs to live a full, happy and independent life and we are dedicated to providing whatever support is needed to achieve success. 
The Arizona Training & Evaluation Center, Inc. (AZTEC) is a private, non-profit, IRS approved 501(c)(3) organiza­tion providing day activity, educational, home and community based, employ­ment, and residential services and supports to individuals with dis­abili­ties. AZTEC's programs and services are provided in the Arizona communities and surround­ing areas of Glendale, Peoria, Avondale, Surprise, and West Phoenix. 
** On November 12, 2020, the Federal government issued the Transparency in Coverage (TiC) Final Rule. Under this Rule, group health plans must create and publish machine-readable files (MRFs) that contain detailed pricing information.  For a full explanation, please click here