Contract Work
AZTEC's Employment Services Program utilizes not only community based employment and enclave training opportunities as part of our program but paid contract work as well. AZTEC partners closely with the business sector to meet their production needs efficiently and cost effectively while providing paid work in our facility.  The work is completed by trained and dependable members while AZTEC staff check and oversee every step.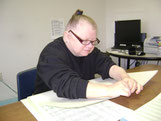 Services include but are not limited to:
* Product sorting and assembly
* Product packaging/glue/taping
* Mail services and collating
* Palletizing and shrink-wrapping of merchandise
* Forklift capabilities and warehouse storage
* Shredding
* Delivery services  
We will decrease costs, solve personnel problems and meet quality production demands. We can provide both short and long term solutions for any business. By utilizing our trained workforce, we can save your company payroll expenses and money.
Enclaves
AZTEC provides real work training opportunities in the community through enclave sites.  Groups of 2-5 members and a trained Job Coach work together to provide valuable training. Transportation and supervision are provided throughout the day. Current worksites include the Glendale Municipal Recycling Facility (MRF), Moose Lodge, and Glendale First United Methodist Church.